Mission Statement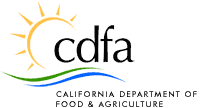 Mission Statement
To serve the citizens of California by promoting and protecting a safe, healthy food supply, and enhancing local and global agricultural trade, through efficient management, innovation and sound science, with a commitment to environmental stewardship.
Vision Statement:
To be recognized as the most highly respected agricultural agency in the world by leading and excelling in the programs and services delivered to meet the needs for the growing local and global food and agricultural system.
Goals Of The California Department Of Food And Agriculture:
Ensure that only safe and quality food reaches the consumer.
Protect against invasion of exotic pests and diseases.
Promote California agriculture and food products both at home and abroad.
Ensure an equitable and orderly marketplace for California's agricultural products.
Build coalitions supporting the state's agricultural infrastructure to meet evolving industry needs.