Huanglongbing Pest Profile
Huanglongbing (HLB) Pest Profile
---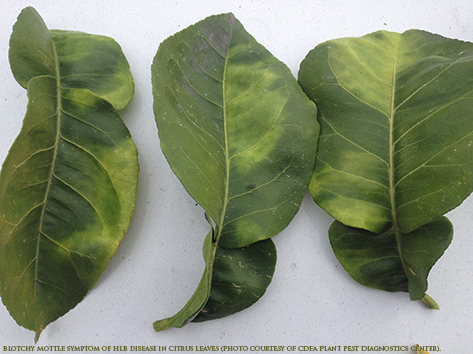 Common Name:
Huanglongbing pathogen,
Citrus Greening pathogen
Scientific Name:
Candidatus Liberibacter asiaticus
Common Names:
Huanglongbing (HLB), Citrus Greening, Yellow Shoot/Dragon Disease.
Type of Organism:
A phloem-inhabiting bacterium
---
---
Literature Cited:
Global Invasive Species Database, 2009. Candidatus Liberibacter asiaticus. Available from:http://www.issg.org/database/species/ecology.asp?si=1496&fr=1&sts=sss
Hodges, A. W. and T. H. Spreen. 2012. Economic impacts of citrus greening (HLB) in Florida, 2006/07 to 2010/2011. Institute of Food and Agricultural Sciences, University of Florida. Document FE903. 5 pp. http://ufdc.ufl.edu/IR00005615/00001
Irey, M. S., T. Gast, and J. Snively. 2008. Economic impact of managing Huanglongbing in groves at Southern Gardens citrus. I Taller Internacional sobre Huanglongbing de los cítricos (Candidatus Liberibacter spp) y el psílido asiático de los cítricos (Diaphorina citri). Hermosillo, Sonora. México 2008. 5 pp. http://www.concitver.com/huanglongbingYPsilidoAsiatico/Memor%C3%ADa-6%20Irey.pdf
NAPPO (2011) Citrus Huanglongbing Diagnostic Protocol. Secretariat of the North American Plant Protection Organization 1431 Merivale Rd., 3rd Floor, Room 140 Ottawa, Ontario, K1A 0Y9 Canadá.
USDA-APHIS-PPQ. 2006. New pest guidelines: Candidatus Liberibacter africanus, Ca L asiaticus, Ca L americanus. Huanglongbing. Citrus Greening Disease. USDA-APHIS-PPQ Riverdale, MD.
---
Related Information: