Sheep and Goat Health Information & Resources
Sheep and Goat Health Information & Resources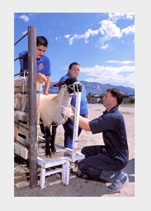 The small ruminant industry is invaluable to California's agriculture. The Animal Health Branch aids in the management of sheep and goat diseases that cannot be managed by a single producer and their veterinarian. If you raise small ruminants, having a private practitioner to aid in disease diagnosis is important because of the highly contagious nature of some diseases to small ruminants, other species of livestock and/or people. The risks of disease introduction are greater than ever, because of expanding international trade and travel. A highly transmissible foreign animal disease can spread rapidly if undetected or detected but not reported. Some signs to look for are oral blisters and lameness, unusual or unexplained illness, hemorrhagic septicemias, high morbidity or mortality. If you suspect you are dealing with such a disease, contact your district office.
The demand for sheep and goats in California is increasing greatly. Expanding ethnic populations have created new demands in the market place. Some marketing may occur through non-traditional avenues, which are not easily monitored. The Animal Health Branch recognizes this potential risk and approaches issues accordingly when dealing with diseases within the various segments of the sheep and goat industry. CDFA continues to develop programs and policies that are adjustable to the continuing changes in the industry, while at the same time protecting the well-being of sheep, goats and other livestock in California.
Since animal diseases may affect sheep and goat populations in any state, there are Federal-State Cooperative Programs (FSC) that address these diseases. Scrapie in sheep and goats is an example of a FSC program.
Contact Us

CDFA Animal Health and Food Safety Services,
Animal Health Branch

1220 N Street

Sacramento, California 95814

Phone:

916-900-5002

Fax: 916-900-5333

Email:

ahbfeedback@cdfa.ca.gov

Our offices are open 8:00 AM to

5:00 PM Pacific Time.