Hydrilla Eradication Program
Hydrilla Eradication Program
3294 Meadowview Road, Sacramento, CA 95832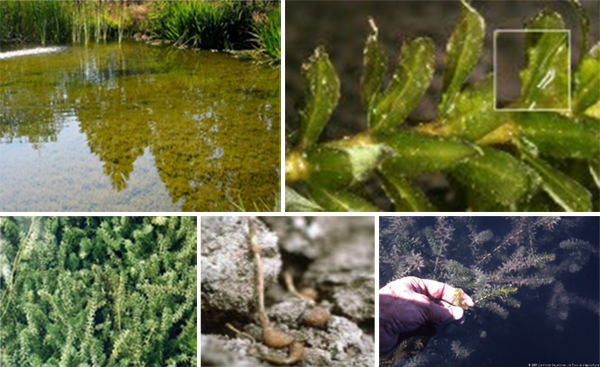 The Program is a statewide effort to detect the highly invasive weed hydrilla and mitigate its spread by quarantine and eradication methods. The goal of the Program is to eradicate all existing infestations of hydrilla within the State and prevent any new infestations from establishing in the future. This is achieved through: 1) prevention via education; 2) detection via surveys and outreach; and 3) eradication.
The California Department of Food and Agriculture (CDFA) conducts eradication efforts in multiple counties throughout California integrating various methods of control and management. The largest eradication effort is the infestation in Clear Lake which began in 1994. The Program has successfully eradicated hydrilla from 15 counties.
---
Hydrilla
Hydrilla (Hydrilla verticillata) is a non-native, aggressive, submerged water weed. Once hydrilla invades an aquatic ecosystem, it drives out all native and introduced aquatic plants, creating a pure stand. Its competitive edge comes from several different mechanisms.
Hydrilla breaks apart very easily and small pieces of stem, no more than one inch long, can produce entire new plants. The plant also produces special survival structures on the stems (called "turions") and in the sediment (called "tubers"). Each tuber also produces a new plant. The tubers can survive up to seven years in the sediment before sprouting, even if no water is present for much of that time.
Hydrilla also interferes with boating and fishing and increases the risk of drowning. Heavy infestations decrease fishing stocks and impact on boating, reducing recreational opportunities and the economies they support.
For more information, see pamphlet.

---
National Pollutant Discharge Elimination System (NPDES) Permits | Aquatic Weeds
---
Technical Review Panel for Clear Lake:
In late 2009 the Hydrilla Program asked a panel of four outside experts to review the Clear Lake Hydrilla Eradication Project.