Swine Influenza
Swine Influenza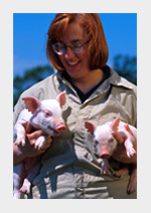 It is important to recognize that swine flu is not a threat to the food supply. According to the Center for Disease Control, influenza viruses have not been shown to be transmissible to people through eating properly handled and prepared pork (pig meat) or other products derived from pigs.
Swine influenza virus (SIV) in pigs has been present in the United States over 80 years. Classical swine influenza is a respiratory disease of swine caused by a type A influenza virus. Influenza viruses that commonly circulate in swine are called "swine influenza viruses" or "swine flu viruses." Like human influenza viruses, there are different subtypes and strains of swine influenza viruses.
Although, current SIV vaccination strategies in swine for the commonly circulating subtypes provide protection against these and similar subtypes, swine are susceptible to infection with other variations not protected by current vaccines. SIV do not normally infect humans. However, sporadic human infections with swine influenza viruses have occurred.
The pork industry has worked successfully for many years with CDFA and USDA Animal Health Officials on programs that protect and improve the health of California and the U.S. Swine herd. The solid working relationship between State Animal Health Officials, attending swine veterinarians and pork producers provides the necessary health assurances that keep the pork industry moving on a daily basis.
Owners of sick pigs are encouraged to call their veterinarian or CDFA:
CDFA and USDA officials work together with animal owners and veterinarians to look for unusual swine influenza outbreaks in pig populations on a regular basis.
Owners of sick pigs with questions should call the Animal Health Branch District Office nearest them. (District

map

)
Appropriate samples may be submitted to any of the California Animal Health and Food Safety Labs (CAHFSL

map

)
Producer Guide to Influenza Virus Surveillance (Courtesy of the National Pork Board): Frequently Asked

Questions

Veterinarian Guide to Influenza Virus Surveillance in

Swine

(courtesy of USDA, NPB and CFSPH)
The California Department of Food and Agriculture always recommends proper hygiene and health management practices when working with animals, which include:
Encourage all people to wash often their hands and arms frequently, including before and after handling pigs, before eating, smoking or touching their faces, mouths, eyes or noses.
Young children, pregnant women, people 65 or older and people with weakened immune systems should be extra careful around animals.
Avoid contact with pigs if you are experiencing flu-like symptoms.
Key background information on swine influenza in pigs:
Swine Influenza Virus infections are a common cause of respiratory illness in pigs.
Flu vaccines for pigs can help, but are not 100% effective. One reason is that several different strains of flu can infect pigs and vaccines may not protect against all strains.
Infected pigs usually show signs of disease about 3 days post exposure and then are sick and infectious for about a week.
Keep new animals separate from your herd for two weeks and observe for signs of disease.
Pigs may show a variety of signs of disease, including coughing, runny nose and/or eyes, sneezing, depression, lack of appetite, depression, difficulty breathing and fever. The fever can cause them to abort a pregnancy.
Spread of the virus from pig to pig can be rapid and occurs via direct contact, getting carried on something that was not cleaned, and via respiratory excretions that become airborne for a short distance.
To prevent the spread of flu viruses form people to pigs, you should also be aware of the signs of flu in people, which can include: fever, cough, sore throat, runny or stuffy nose, body aches, head ache, fatigue, chills and possible vomiting or diarrhea.
According to CDC, swine influenza virus is not considered a threat to food safety. Swine influenza viruses are not spread by food. You cannot get swine influenza from eating pork or pork products. Eating properly handled and cooked pork and pork products is safe.
USDA Swine Influenza Surveillance Update:
Public Health Resources:
Measures to Minimize Influenza Transmission at Swine Exhibitions. 2018
Issues for Fair Organizers to Consider When Planning Fairs (CDC), Influenza A (H3N2) Variant Virus
Materials for Swine Exhibitors at Fairs, Materials for Visitors at Fairs and Influenza Fact Sheets:
National Pork Board Resources Influenza
CDFA Resources: