African Swine Fever
African Swine Fever (ASF)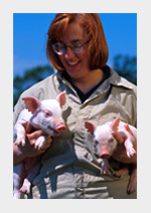 African swine fever (ASF) is a highly contagious and often fatal hemorrhagic viral disease of domestic pigs and wild pigs. The disease is transmitted by direct contact with infected animals, indirect contact on fomites, by tick vectors and by food waste containing infected meat. Symptoms are high fever, shock and hemorrhaging lesions. The disease kills pigs within a week of infection and the level of mortality varies with the virulence of the isolate. No treatment or vaccine exist. It does not pose a risk to public health. ASF has never been reported in the United States, Canada, Australia, or New Zealand.
African swine fever was first described in the 1920s in Kenya and is a serious problem in several African countries. The disease appeared in the 1950s in Europe's Iberian Peninsula. It was found in the late 1970s and early 1980s in Haiti, the Dominican Republic, Cuba and Brazil. Spain and Portugal eradicated this disease in the mid-1900's. Later on in 2007, it appeared in Georgia and the Caucasus region and from there spread to Russia and Ukraine. Concerns remain high that the disease could spread across the main pig-producing areas of west and north Poland, or north-west Europe including Germany, Denmark, Netherlands and northern France. The most recent outbreaks in China and Europe, combined with increased global movement of animals and people, have led Federal, State, and industry stakeholders to discuss enhancing swine surveillance activities to include ASF. Surveillance for ASF is currently being conducted through passive reporting of suspicious cases to CDFA and USDA animal health offices.
Contaminated meat that is present in untreated food waste can cause diseases that may be spread to swine and other livestock. Illegally imported animal products, such as meats and sausages, could cause outbreaks of ASF and other FADs such as FMD and CSF. When traveling, do not bring back animal products from other countries, do not feed raw or improperly cooked meat waste products to swine. Practice standard biosecurity measures, such as cleaning and disinfecting clothing, equipment, and vehicles entering and leaving the farm; never allow human food brought onsite to enter animal areas, international food products pose an increased risk and should not be allowed on the farm, maintain an effective rodent and tick control program, and fence property to prevent wild pigs from coming in contact with domestic pigs. The economic consequences of a foreign animal disease incursion into the United States include impacts on exports and the high cost of disease control and eradication. The continuing increase in the number of cases of ASF that are being reported in the north-eastern European states and most recently in China is of rising concern for pork producers.
African swine fever and other emergency conditions in livestock must be reported to CDFA or USDA immediately upon diagnosis or suspicion of the disease. The list of reportable conditions for animals and animals products is available online from: http://www.cdfa.ca.gov/ahfss/Animal_Health/pdfs/CA_Reportable_Disease_List_Poster.pdf
Visual and diagnostic surveillance is essential for control and eradication of a foreign animal disease such as ASF. (English, Spanish)
---
African Swine Fever Surveillance and Diagnostics
---
Biosecurity
---
USDA Resources
---
Foreign Animal Disease Resources: