Foreign And Domestic Animal Diseases
Foreign And Domestic Animal Diseases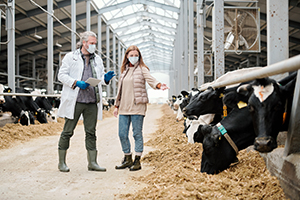 The Animal Health Branch's (AHB) highest priority is to protect California animal agriculture, human health, and the nation's food supply by preventing, detecting, responding to, and eradicating foreign animal diseases from our farms and our food chain. The AHB is the State's organized, professional veterinary medical unit that implements programs that protect California livestock industries, consumers, and the economy from catastrophic animal diseases or other livestock health and agricultural problems. Many diseases monitored by the AHB have zoonotic potential meaning they can be transmitted from animals to humans. Finding, isolating, and eliminating diseases that threaten animal health, public health, and the availability of affordable, wholesome food can only be achieved through dedicated, highly trained personnel maintaining programs to rapidly detect and respond to animal disease introductions.
Contact Us

CDFA Animal Health and Food Safety Services,
Animal Health Branch

1220 N Street

Sacramento, California 95814

Phone:

916-900-5002

Fax: 916-900-5333

Email:

CDFA.AHB_EPRS@cdfa.ca.gov

Our offices are open 8:00 AM to

5:00 PM Pacific Time.