Licensing Requirements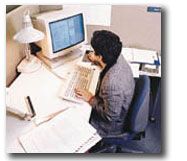 Market Enforcement Branch: Licensing Requirements

". . . any person engaged in the business of buying, receiving on consignment, soliciting for sale on commission, or negotiating the sale of farm products from a licensee or producer for resale shall be licensed . . ."
". . . any person that is engaged in the business of processing or manufacturing any farm product, that solicits, buys, contracts to buy, or otherwise takes title to, or possession or control of, any farm product from the producer of the farm product for the purpose of processing or manufacturing it and selling, reselling, or redelivering it in any dried, canned, extracted, fermented, distilled, frozen, eviscerated, or other preserved or processed form shall be licensed ."
". . . any person required to be licensed shall file an application with the director for a license to transact business before engaging in such business."
Licensing forms are available on this site at MEB Forms within the Featured Links section.