Market Enforcement Branch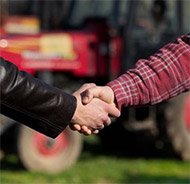 Market Enforcement Branch
The MISSION of the Market Enforcement Branch is to objectively enforce laws enacted to ensure confidence and stability in the agricultural marketplace and to protect against unfair business practices between producers, handlers, and processors of California farm products.
---
Press Release: CDFA Announces Vacancies on New Market Enforcement Committee
Functions:
License entities such as dealers, brokers, commission merchants, cash buyers, and processors that handle California farm products for the purpose of resale or processing.
Process complaints filed by producers or licensees. The most common complaints filed are for failure to pay in full, failure to render a true and complete account of sales, and failure to comply with the provisions of a written agreement. Complaints involving fruits and vegetables moving in interstate commerce must first be filed with the United States Department of Agriculture/Perishable Agricultural Commodities Act. Market Enforcement Branch (MEB) requires a letter of denial from the federal agency prior to taking any action.
Investigate alleged violations by licensed or unlicensed entities to ensure that each is in compliance with the Food and Agricultural Code.
Take disciplinary action when appropriate against licensees, principals, or agents. Actions may range from Notices of Violation, Probation, Suspension, or Revocation of a license, to the Denial of an application for license.
Refer flagrant violators to local law enforcement agencies for civil and/or criminal prosecutions.