Bio for Joy Sterling
Joy Sterling
Agricultural Industry Member
Term Expires: January 2025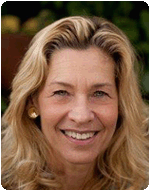 Joy represents the second generation at her family's winery Iron Horse Vineyards in Sebastopol, CA. She is the CEO of the winery and the author of four books. She grew up in Paris, speaks fluent French, graduated from Yale and spent 10 years as a journalist before joining the winery. An adventurer, Joy has climbed Kilimanjaro, trekked in the Himalayas, run white water rapids in China and has literally been to Timbuktu ... and back.
Joy served on the Board of Trustees of the Leakey Foundation for ten years and is a member of National Geographic's Grosvenor Council. She is the author of A Cultivated Life, published by Random House.
As Chair of the California Democratic Party Rural Caucus, her passion projects include expanding broadband into rural communities and ensuring all Californians have access to clean, reliable drinking water.