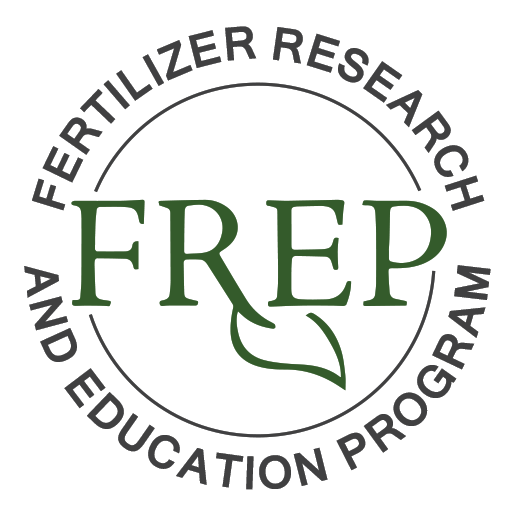 Lettuce Nitrogen Uptake and Partitioning
Lettuce Nitrogen Uptake and Partitioning
Seasonal N Uptake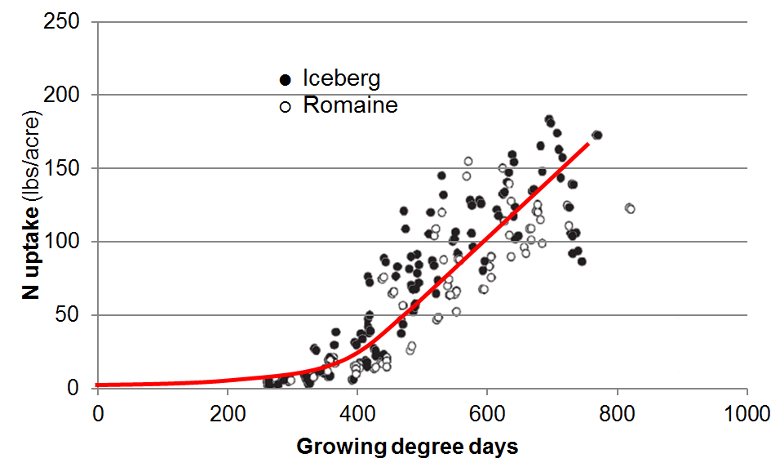 Nitrogen uptake was determined by harvesting the aboveground biomass at different times during lettuce development. Early in the season, lettuce N uptake was low. Between heading and harvest, however, N demand of lettuce was high. During this period, which is generally the last month before harvest, 70-80% of total N was taken up [1].
---
Nitrogen Partitioning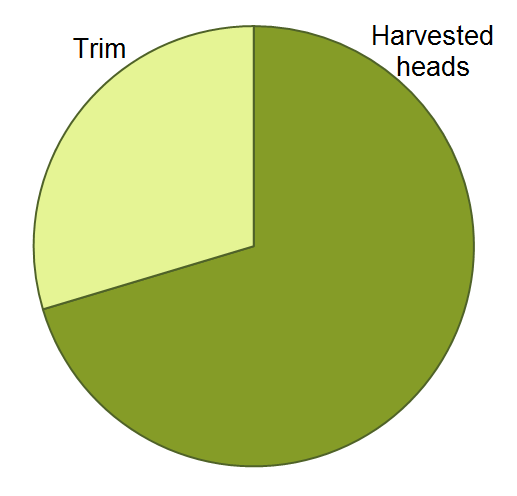 Wrapper leaves and non-marketable heads may contain 10-40% of the aboveground N [4,6].
---
Nitrogen Removed at Harvest
Nitrogen removed at harvest with iceberg and romaine lettuce. The overall average is weighted for the number of observations in each trial. More information can be found here [3].
Iceberg lettuce
Location
Years
Removal (lbs N/ton fresh weight)
Source
Mean
Range
Salinas, CA
2007-10
2.46
1.75 - 2.98
[1]
Central Coast, CA
1999
2.61
1.96 - 3.6
[2]
Various
2.56
[5]
Various
2.88
2.02 - 4.74
[7]
Weighted Average
2.63
1.75 - 4.74
Romaine lettuce
Location
Years
Removal (lbs N/ton fresh weight)
Source
Mean
Range
Salinas, CA
2007-10
3.21
2.27 - 3.9
[1]
Central Coast, CA
1999
3.20
[2]
Various
5.12
[5]
Various
3.94
3.2 - 4.7
[7]
Weighted Average
3.62
2.27 - 5.12
Links
---
References
Bottoms, T.G., Smith, R.F., Cahn, M.D., Hartz, T.K., 2012. Nitrogen requirements and N status determination of lettuce. HortScience 47, 1768-1774.
Breschini, S.J., Hartz, T.K., 2002. Presidedress soil nitrate testing reduces nitrogen fertilizer use and nitrate leaching hazard in lettuce production. HortScience 37, 1061–1064. Complemented with unpublished data.
Geisseler, D., 2016. Nitrogen concentrations in harvested plant parts -A literature overview. Report to the Kings River Watershed Coalition.
Hartz, T.K., Bendixen, W.E., Wierdsma, L., 2000. The value of presidedress soil nitrate testing as a nitrogen management tool in irrigated vegetable production. HortScience 35, 651-656.
Howard, F.D., MacGillivray, J.H., Yamaguchi, M., 1962. Nutrient composition of fresh California-grown vegetables. California Agricultural Experiment Station, Bulletin No. 788, California Department of Agriculture.
Thompson, T.L., Doerge, T.A., 1996. Nitrogen and water interactions in subsurface trickle-irrigated leaf lettuce II. Agronomic, economic, and environmental outcomes. Soil Science Society of America Journal 60, 168-173.